"Dancing With the Stars," the viewers don't give Trista a rose; meanwhile, J. Peterman makes like Astaire, the champ loses his footing, and the soap star flashdances

I'm only slightly more confident in my ability to tell the difference between the rumba and the cha-cha than in my ability to distinguish figure skating's triple axel from the triple salchow. Which is to say I'm not confident at all. That, however, doesn't mean I'm not qualified to write about Dancing With the Stars, the summer reality sensation where everything seems totally arbitrary — the choice of contestants, the rules, the scoring, even the results.
Not that there's anything wrong with that. After all, ABC made my brain work overtime during the regular TV season — what's in the hatch on Lost? will Bree go to prison for Rex's death on Desperate Housewives? why did Rodney get picked up for next fall? — but now that summer's arrived, it's time to store your gray matter away with the ski boots and driveway salt. And what's less mentally taxing than a show that can be summed up in three exclamations: Pretty dresses! Twirling! J. Peterman!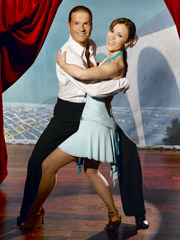 Right from the opening credits, a kaleidoscopic whirl of mirror balls, colorful gowns, and loopy fonts, Dancing With the Stars embraces its own cheese factor without apology. You feel that if you transported the show's six stars back 25 years, they'd all be on the shuffleboard deck of The Love Boat. Except Florence Henderson, Morgan Brittany, and Charo never had to execute moves quite as complicated as the ones we've seen on Dancing these past two weeks.
While no one on the show has explained Dancing's scoring system to my complete satisfaction, it's quite clear that three of the celebs have already pulled way out in front of the pack: actor John O'Hurley (Seinfeld's J. Peterman); supermodel Rachel Hunter; and former New Kid on the Block Joey McIntyre. Barring any of those three literally falling on their faces in the next few weeks, boxing champ Evander Holyfield and soap actress Kelly Monaco will almost surely be the next two contestants eliminated.
With his vocal affectations, severe facial expressions, and total lack of soul, O'Hurley was born for the ballroom scene. While I found his cha-cha from last week a little heavy on the gasping (and light on the oomph), his quick-step this week to ''Let's Face the Music and Dance'' was remarkably good. He didn't once look pained keeping up with his pro partner (Charlotte Jorgensen), and that finishing move where Jorgensen hurled herself across the floor into O'Hurley's arms was quite the fit of derring-do for an amateur stepper. But he's not only good on the floor: O'Hurley's goofy smile and rehearsed punch lines (''I'm just happy my hair didn't move!'') make him stand out as the one contestant who seems fully aware of the show's ridiculousness factor, and that in itself should win him a hefty share of viewer votes.
Hunter and McIntyre, meanwhile, don't quite possess O'Hurley's likability, but they seem to have a leg up (heh) on him in terms of youth, stamina, and flexibility. Hunter's flawless execution of the one-leg hang and that clothesline maneuver — no easy feat for such a tall drink of water — deservedly earned her the evening's second-highest scores. If Stacy's mom could just lose the vaguely nauseated facial expression she brings to the show's interview and judging portions, she might take home the gold. McIntyre, meanwhile, looked occasionally desperate keeping up with his adorable partner, Ashly DelGrosso, during the quick-step, but he also pulled off the evening's most intricate footwork without totally humiliating himself.
Monaco, who received a critical savaging last week for a waltz that didn't look all that bad to me, took another drubbing this week for a half-naked rumba during which the smoldering glances between herself and partner Alec Mazo outnumbered actual dance steps by a margin of nearly three to one. Voters may nonetheless respond to Monaco's saucy refusal to get choked up when the judges called her ''brittle'' and ''awkward,'' her coining of the word ''rumbalicious,'' and the fact that her dress contained so little material that producers had nowhere to attach a mike-pack. That could spell trouble for Holyfield, whose grasp of synchronization seemed to end when he put on a tie that matched partner Edyta Sliwinska's stunning chartreuse gown.
Interestingly enough, though, while Holyfield and Monaco had the lowest total scores from the judges over the two-week period — 30 apiece, compared with leader O'Hurley's 46 — it was former Bachelorette Trista Sutter, with a 37 from the judges, who got the boot. The show's web page has a detailed explanation of how it combines the public's votes with the judges', but you won't need to read it to understand this week's tally: I doubt even Trista's mom could've been inspired to pick up the phone after witnessing her spawn's bizarre, fame-hungry grin during her dances, her shrill rehearsal footage, and partner Louis van Amstel's terrifying plunging necklines. (Someone buy that man a three-pack of Hanes!)
While I'm no Trista fan, either, I was hoping the reality-show vet might stay another week or two, just to keep the top three on their toes. But a capricious voting result fits Dancing With the Stars the way spandex clings to O'Hurley — oddly, yet somehow appropriately. Think about it: Dancing opts for high-quality wedding singers covering recent hits instead of just playing the original tunes. It's got a trio of unknown judges who bark comments about ''extending the line'' and ''achieving lightness.'' And it's somehow made has-been-ism seem exceedingly cool. So if the show's first casualty doesn't quite make sense, there's no need to fret. If you spend too much time looking for logic in this kitschy kaleidoscope, you'll miss all the fun.
What do you think makes Dancing With the Stars so strangely addictive? Why didn't viewers get out the vote for Trista? And who's your early pick to win the whole ball of cheese?
-EW.com