Amazing Race
July 28, 2006
Amazing Race's Chip Arndt Congratulates Former Partner Reichen Lehmkuhl & Nsync Star Lance Bass

Chip Arndt, whose winning of the hit CBS-TV reality show "The Amazing Race" with former partner Reichen Lehmkuhl advanced the right of gay marriage, has expressed his congratulations to *NSYNC star Lance Bass for his courage in telling "PEOPLE" magazine, "I'm gay," and announcing his relationship with Lehmkuhl to the world.
July 17, 2006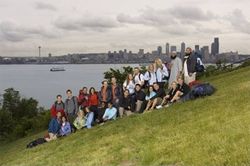 Amazing Race 10 Teams Announced
CBS today announced the identities of the 12 Teams set to compete in THE AMAZING RACE 10 this fall. The three-time Emmy Award-winning reality adventure series is making its home on a new night and time this fall, moving to Sundays (8:00-9:00 PM, ET/PT) on the CBS Television Network. Starting in Seattle, WA, the 12 Teams will travel over 40,000 miles in under 30 days, spanning four continents and 13 countries. Teams will travel to such exotic locations as Kuwait, Mongolia, Beijing, Madagascar and Hanoi, Vietnam. The 12 teams will compete against one another in a race around the world for a $1 million prize.
July 16, 2006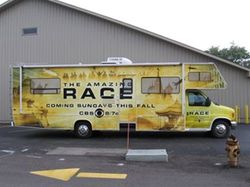 Amazing Race Promobile Owner Talks About His Amazing Adventure
In late June, Reality TV Magazine reported on the Amazing Race Promobile that is touring the country to promote the Amazing Race. George Schweitzer, President of the CBS Marketing Group, had seen an ebay auction by a family selling advertising space on the mobile home and thought it would be a great way to promote The Amazing Race. Reality TV Magazine caught up with Michael Aldrich, the owner of the Amazing Race Promobile, and got the scoop on his travels.
-Reality TV Magazine