Reality TV
Can't get enough of reality TV? A leading resource for reality TV shows, episode summaries, and the scoop on your favorite reality television show celebrities.


What do you really know about reality TV? Take the challenge of our five-question quiz about some of the hottest shows on the air"

With one woman sifting through a couple dozen guys, you could say that ''The Bachelorette'' is about female empowerment. Or revenge -- since bachelorette Trista Rehn finished a tantalizing second in ''The Bachelor.'' But no matter what happens, she always has her day job to fall back on.



Question No. 1: What is ''The Bachelorette'''s occupation?
Gym teacher
Health club manager
Legal aide
Physical therapist
Registered nurse
Swimwear store owner
---
Pair-Shaped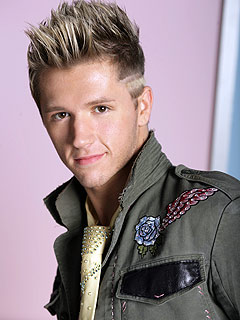 A chat with the final four on ''So You Think You Can Dance'': Just before the final competition night, we talked to Benji, Donyelle, Heidi, and Travis about tans, the tour, and bodily trauma by Carrie Bell
ENTERTAINMENT WEEKLY: How does it feel to have Footloose'd your way to this Thursday's finale? Do you now know you can dance, instead of just thinking it?
BENJI SCHWIMMER, 22: Yes, I feel validated — the question was answered! I was obsessed with this show last season; I would memorize [season 1 finalists] Nick and Blake's routines at 3 in the morning. I was pretty good, but it never occurred to me that I could actually get on the show and get to the end.
DONYELLE JONES, 26: Yeah, I guess I do know now. It's been bittersweet. I have gotten the most amazing exposure and instruction as a dancer. The bitter [part] is that we never stop. We rarely have a day off, and I'm exhausted. You don't realize how strong you are and what you are capable of until it's questioned.
HEIDI GROSKREUTZ, 24: It has been a roller-coaster ride, and that is actually what is so great about it. You have to experience extreme lows to get the extreme highs. The more blood, sweat, and tears you go through to get a good performance, the more you enjoy it. And I get to experience this with my cousin [Benji].
TRAVIS WALL, 18: It feels amazing. I was originally cut in L.A. and re-auditioned in South Carolina. They haven't really publicized that. I didn't need to win, but I wanted to go from the beginning to the end and see the whole process — I wanted to get in to prove that first impressions don't always mean something. You can be the best dancer in the room and still get cut. All dancers should know that. Too many people get discouraged by the audition process and give up on dreams. They need to know that I was cut, and now I'm at the end.